EVA flip flop refer to slipper soles made of EVA, so as long as the soles are made of EVA slippers, they are collectively called EVA slippers.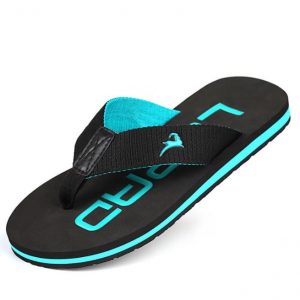 So what kind of material is EVA?
EVA is a new type of environmentally friendly plastic foaming material, which has the advantages of good cushioning, shock resistance, heat insulation, moisture resistance, chemical resistance, etc., and is non-toxic and non-absorbent. EVA rubber and plastic products are designed to be processed and formed. Its shock resistance is better than traditional foamed materials such as polystyrene (foam) and meets environmental protection requirements. It is the best choice for export products. Compared with shock-proof packaging, it can be cut and shaped into sacks; due to the large difference in density, it can also have a wider range of uses.
EVA Features:
Water resistance: closed cell structure, no water absorption, moisture resistance, good water resistance.
Corrosion resistance: Corrosion resistance to seawater, grease, acid, alkali and other chemicals, antibacterial, non-toxic, odorless, and pollution-free.
Processability: And easy to process such as hot pressing, cutting, gluing, bonding.
Anti-vibration: high resilience and anti-tension, strong toughness, and good shock / buffering performance.
Thermal insulation: excellent thermal insulation, cold insulation and low temperature performance, can withstand severe cold and exposure.
This way you know that EVA slippers are actually a type of slippers that are durable and wear-resistant and have good thermal insulation properties.