There is a beach near the water, and the beach flip flops have become a beautiful landscape. Why do everyone go to the beach and be loyal to the beach flip flops?
Ergonomically designed shoe shape, adjustable shoe body, suitable for guests of various foot types; lightweight, soft, good shock absorption; extremely flexible and durable soles; spacious shoe space; anti-mold, deodorant, breathable , Waterproof, moisture absorption, quick-drying, no matter whether it is rainy or in the wild. Suede and suede do not slip when soaked in sweat and rain, making it the fabric of choice for many beach shoe designers.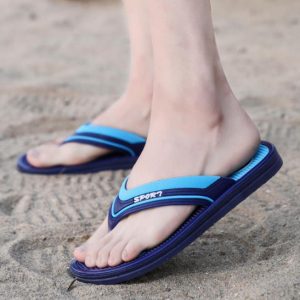 Flip flops on the beach are made up of two parts: the upper and the sole. The upper part is made of cotton or polyester fabric. Its advantages are that the beach shoes are elastic, not easy to absorb water, and can reduce water resistance when swimming. The shoes need to be equipped with fastening straps, whose function is to make the beach shoes and the concave part of the soles of the feet can be closely attached together, so that the shoes and the feet are integrated, and the resistance to the feet when swimming is more effectively reduced. The bottom of the feet uses a soft, ultra-thin rubber sole, whose function is to prevent the soles of the feet from being injured by the shells or hard stones of marine animals, and also allows the wearer to experience the wonderful feeling of stepping on the beach barefoot.